| | | |
| --- | --- | --- |
| | | |
| A Park of Changzhou | | The City of Changzhou |
General Information
---
Changzhou, nicknamed the Dragon Town, is a Prefecture city with a history of 2,500 years. Situated in the downstream of Yangtze River Drainage Basin and on the southern bank of the Yangtze River, Changzhou has been a national tourist hub and one of national and provincial industrial centers. The earliest history of Changzhou started at the beginning of the Western Zhou Dynasty and the original town was founded as a Chinese commandery in 221 B.C. Changzhou got its current name, ordinary prefecture, in 589 A.D., and after the Grand Canal was constructed, the town became a canal port and a transshipment point. In later Taiping Rebellion Period, there were lots of municipal constructions including palaces and government offices, housing leaders of the dynasty. In the 1920s, Changzhou started to attract mill owners for cotton industry and the industry finally made Changzhou a national textile center in China. Changzhou City is one of Jiangsu thirteen prefecture-level cities which administers five old municipal districts and two county-level cities. Noted with its people's honesty and faithfulness, Changzhou boasts its economic and cultural prosperity, social harmony, and its excellent protected environment.
Geography, Resources and Climate
---
Changzhou borders Zhenjiang to the west and Wuxi to the east and is almost in the middle, 160 km and 110 km respectively, of two major metropolises, Shanghai and Nanjing. The city is on the south of the Yangtze River, crisscrossed by canals, rivers and lakes. It has its own airport, Changzhou Benniu Airport, approximately 18 km from the urban area of the city. Changzhou is under the influence of East Asia Monsoon. The city has a mild and humid climate and seasons are distinct, with usually hot summers and plenty of precipitation throughout the year.
Jurisdiction
---
Changzhou jurisdiction includes seven county-level divisions, of which five are districts, two are cities. The districts are old urban areas of Changzhou while the two cities are recently designated as county-level districts being considered as suburbs and governed by the Changzhou city administration. The special industrial zones are specifically designated as new investment areas.


Area and Population
---
Changzhou, with its jurisdiction, has a population of 3.5 million and the land mass is 4,375 square kilometers. The city is located in the middle of two major metropolises, Nanjing and Shanghai, about 150 km away from either of both.
Economy, Industry and Environment
---
Changzhou's agriculture revenue has been in shrinking over years and now it only occupies about 6% of the total city's GDP. The traditional agricultural products are rice, wheat, cotton, vegetable and fruit, and the city is spending more funding in developing its ecological and high efficiency agriculture, horticulture and tea plantation. Changzhou has been recognized for its old "Four Pillar Industries", including mechanical, electrical manufacture, automobile manufactures and textile. In addition, the city has newly added more industrial sectors to its economy, including high-tech, electronic, biomedical and chemical productions. The industrial contribution to its GDP has reached 57% and the share is still going strong. Total 42 international industrial giants of the world top 500 corporations listed on the Fortune have set their offices in Changzhou. Economic growth and environmental conservation have always seemed like two different approaches. The industrialization of Changzhou has brought obvious contamination to the city' environment. The municipal government has been installing stiff environmental rules into practice and has spent significant funds over years to protect its environment. Many polluters were ordered to shut down or move, in which there were total 62 high-polluted factories in 2006 along.
Transportation and Tourism
---
Changzhou has a convenient transportation constituting a three-dimensional transport system, including land, water and air. Public transportation is the dominant mode of travel for majority of municipal commuters and travelers. The road transportation is comprised of mainly municipal, provincial and national highways or expressways, connecting the city to all of its subdivisions under its jurisdiction as well as its neighbor cities. These road arteries include Hu-Ning (Shanghai-Nanjing) Expressway, Shanghai-Nanjing Railway and the National 312 Highway. The city is 160 km away from Shanghai and 110 km from Nanjing. The city has its own airport, Changzhou Benniu Airport, connecting more than 20 domestic major cities, including Beijing, Dalian, Xiameng, Shengzheng, Haikou, Xi'an, etc. The airport is located in the Changzhou New National Hi-Tech district and 18 kilimeters far from the downtown of the city. Changzhou Port is one of major ports along the Yangtze River and its water network, including the Grand Canal, the Yangtze River and numerous rivers, provides convenience to the city's commuters. The city has an efficient network of municipal public transportation, consisting of bus, taxi and long distance bus system. Changzhou is one of tourist destinations in the southern area of Jiangsu and 17 of them are ranked high in the national campaigns and four with the highest rating. Changzhou is famous for its well-known China Dinosaur Park situated in its New North District, in which there are over fifty dinosaur fossils exhibited in the museum, including the world's earliest, biggest and most complete hadrosaur fossil.
Education
---
Two major universities are stationed in Changzhou and they are Changzhou Campus of Hohai University and Jiangsu University of Science and Technology. The Hohai Universiy Changzhou Campus was established in 1995 and includes 2 schools, Business School and School of Computer & Information Technology. Jiangsu University of Science and Technology is a polytechnic university with programs mainly in sciences and technologies. Changzhou has well instituted compulsory primary education system, a high percent of school-age children are enrolled in schools. The secondary schools including high schools achieves significant graduate rate.
Culture and Folklore
---
Local citizens are friendly and they boast their honesty and commitment with a popular and widely spread legacy. Ji Zha, a diplomat lived on this land 2,500 years ago, promised to give his valuable sword to a lord of the State Xu on his way for a diplomatic mission but the lord died after. On his way home passing the state, Ji Zha made good his promise and gave out the sword even his promise was no longer obliged.
Notable Personage
---
Changzhou's notable natives include Hong Shen, a play writer; Zhao Yuanren, a linguist; Loo-Keng Hua, an outstanding mathematician of Jintan City; Liu Haisu, an eminent painter; and more than 50 most respected academicians in China Academy of Science or China Academy of Engineering.
---
Back to home page
Advertisement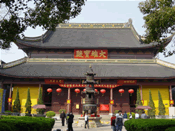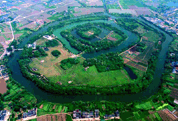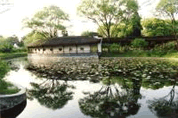 Advertise
Web Services
Live Poll
---